Wee Kitty Clumping Corn Litter
"Engineered as the best litter in the world"
Award winning Wee Kitty® has been scientifically proven to absorb 4x its weight in liquid - outperforming all other litters on the market.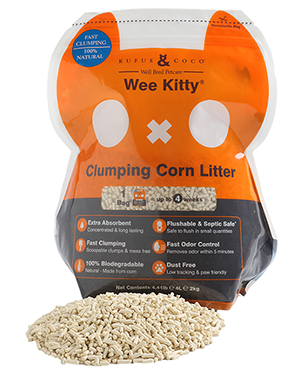 Pour Rufus & Coco Wee Kitty into tray - don't forget your Elasticised Litter Tray Liner!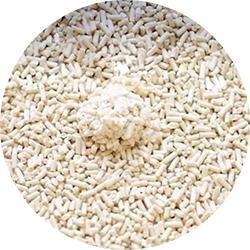 Once soiled, a clump will form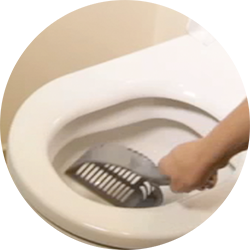 Simply scoop and flush in small quantities, or use as garden mulch
Here's eight reasons why Wee Kitty Clumping Corn Litter will be the best litter you've ever used:

Fast, firm clumping action so you only dispose of soiled litter, not the whole tray.

Pellets absorb up to 4 times their weight in liquid, so you use less litter - saving money & effort!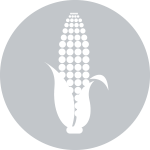 Naturally made from corn.

Removes all odour within 5 minutes.

Proven safe to flush in small quantities.

Light weight &
Low Dusting
Proven to be low in dust, and safe for your pets and our family.

Free from nasties, and safe to mulch or dispose in your garden.

Soft on delicate paws and low tracking.
How is Wee Kitty Different?
Pet parents, you deserve something better! So we've designed Wee Kitty to offer all of the features that pets and pet parents are searching for. Not just a picky few!
To prove that our litter offers unbeatable performance, we compared Wee Kitty against leading competitor brands using independent laboratory testing.
See how our litter compares! READ MORE
Every cat will send tonnes of litter to landfill in their lifetime. You can help reduce this.
Did you know: Clay litter (made from bentonite clay) and Crystal litter (made from silica) are both mined from the earth. Strip mining for bentonite destroys vast areas of vegetation and natural habitats, and strips minerals from the earth.
Reduce your environmental pawprint by choosing an earth friendly litter - one that's sustainable, biodegradable, and high performance so you use less.
Choose Wee Kitty Clumping Corn Litter.
The holy grail of litter!

It does not smell, even after 6 weeks. Flushable. Cost effective as it lasts for ages. PERFECT for apartment living, as IT DOES NOT SMELL!

I have to go out of my way to get it from petwarehouse and i have no room to store bulk bags, even so, it gets 10/5 stars. IT DOES NOT SMELL!

Have I said IT DOES NOT SMELL?!
Flutterby

---
It has changed my life!

This litter is amazing!! I previously used crystal litter and I have a very fussy cat that refused to use it after two days. I was totally refreshing and cleaning the trays every 2 days which was very tedious and expensive. With this litter I just scoop out the waste and he has used it up to 1.5 weeks without a clean and change. I could probably get longer than 1.5 weeks but don't want to push my luck! haha

Highly recommended!
Margot

---
Best litter EVER.

This litter is a lifesaver for keeping a tidy bathroom. It doesn't stick to kitty's feet and it DOESN'T SMELL! It's a-mazing! It clumps better than any other litter I've ever used, which makes clean-up a dream! Best of all...Shadow loves it and he's the fussiest cat, ever.
Charlotte

Proud recipient of TWO Australian Business awards for product excellence and innovation.